Boris Johnson was left "bamboozled" by the science round COVID, in keeping with the federal government's then chief scientific adviser.
Extracts from Sir Patrick Vallance's diaries had been proven to the official inquiry into the dealing with of the pandemic on Monday, with a number of references to the prime minister's issue in attending to grips with the information he was being proven.
Politics reside: Johnson 'seemed damaged' in COVID conferences, claims adviser
One entry described a late afternoon assembly between the pair in May 2020 to debate plans for faculties, the place the adviser wrote: "My god this is complicated and models will not provide the answer. PM is clearly bamboozled."
Ten days later, Sir Patrick wrote that Mr Johnson "sways between optimism and pessimism" and he was "still confused on different types of tests (he holds it in his head for a session and then it goes)."
Another extract from June 2020 stated: "Watching [the] PM get his head around stats is awful. He finds relative and absolute risk almost impossible to understand."
And an extra entry from identical month stated it was "a real struggle to get [Mr Johnson] to understand" graphs.
Politics Hub with Sophy Ridge
Sky News Monday to Thursday at 7pm.
Watch reside on Sky channel 501, Freeview 233, Virgin 602, the Sky News web site and app or YouTube.
Tap right here for extra
Sir Patrick stood by his phrases when questioned by the inquiry's authorized workforce, pointing to how Mr Johnson dropped science as a topic aged 15.
"He did struggle with some of the concepts and we did need to repeat them often," he added.
But whereas the senior scientist stated it was "hard work sometimes to try and make sure that he had understood what a particular graph or piece of data was saying", Mr Johnson didn't have a "unique inability to grasp some of these concepts", including that it was "not unusual amongst leaders in Western democracies".
'Risk' of Eat Out To Help Out
Sir Patrick additionally revealed that the federal government's scientific and medical advisers weren't informed about Rishi Sunak's "Eat Out To Help Out" scheme till it was introduced by the then chancellor, saying their recommendation in regards to the elevated threat of transmission would have been "very clear".
Written proof from Mr Sunak to the inquiry stated: "I don't recall any concerns about [the scheme] being expressed during ministerial discussions, including those attended by [Sir Patrick]."
But requested in regards to the inconsistency along with his personal assertion, Sir Patrick stated: "Around that time lots of measures were being released and you will see repeated references in various minutes and notes and emails and indeed, I am sure, in my private notes, to our concern that people were piling on more and more things and this would come to drive R above one and I think that was discussed at cabinet as well.
"So I believe it could have been very apparent to anybody that this was prone to trigger, properly, inevitably would trigger a rise in transmission threat and I believe that might have been recognized by ministers."
He added: "I'd be very shocked if any minister did not perceive that these openings carried threat."
Rishi Sunak unveiled Eat Out To Help Out in July 2020 – however Sir Patrick Vallance says scientific and medical advisers weren't informed about it beforehand

The division didn't look like restricted to that one scheme, nonetheless, with Sir Patrick's diaries displaying how he thought scientific advisers had been stored out of technique conferences by each Number 10 and the Cabinet Office.
The adviser informed the inquiry there have been "periods when it was clear that the unwelcome advice we were giving was, as expected, not loved and that meant we had to work doubly hard that the science evidence and advice was being properly heard".
He added: "There were times, because we were giving unpalatable evidence and advice, people would prefer not to hear it."
Sir Patrick additionally stated "pressure" was generally placed on advisers to alter recommendation, pointing to a WhatsApp change with the then well being secretary Matt Hancock.
"[Mr Hancock] asked me to change something and I said no, we are not going to change our advice, because that is where the evidence bit comes in," stated the adviser. "You have got to at least see that even if you disagree with it and don't want to do it."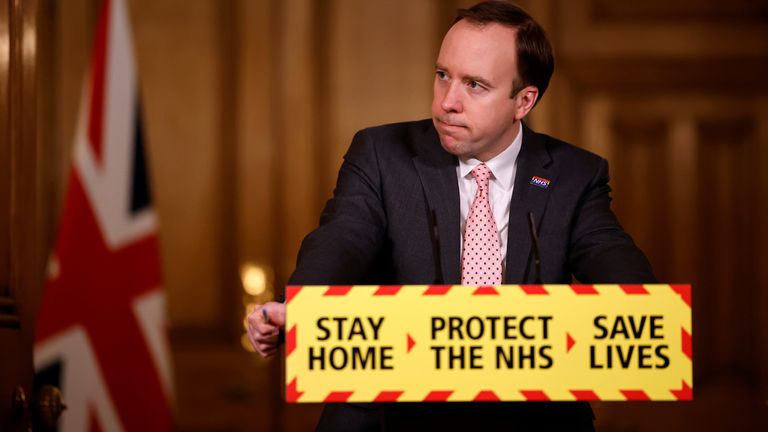 He added: "I am absolutely sure, because politicians are politicians, that there were attempts to manage us and make sure we were not always given the access we might need
"But I believe total we managed to get by means of all that… and ensure the recommendation and proof was heard."
Asked about the WhatsApp exchange, a spokesman for Mr Hancock said: "Mr Hancock has supported the inquiry all through and can reply to all questions when he provides his proof."
Source: information.sky.com"