At least 5 individuals have been arrested after pro-Palestinian protesters staged a sit-in at London's Waterloo Station.
About 100 individuals gathered on the central London transport hub calling for a ceasefire in Gaza, the place Israel is concentrating on Hamas following its assault in Israel on 7 October.
Demonstrators chanted "from the river to the sea, Palestine will be free", which some Jewish individuals contemplate to be antisemitic, and a name for Israel to be eradicated.
Police circled the group after which escorted them away. At least two had been carried out of the station.
Train providers weren't affected, British Transport Police (BTP) mentioned.
Some of these faraway from the station then went onto Westminster Bridge and sat within the highway earlier than transferring to Parliament Square, Scotland Yard mentioned.
"We believe the group in Parliament Square is a mix of pro-Palestinian protesters and JSO (Just Stop Oil) activists," it mentioned on X, previously often called Twitter.
"We have arrested a prominent JSO activist from within the group. We have a significant number of officers ready to respond if there is further disruption in the road."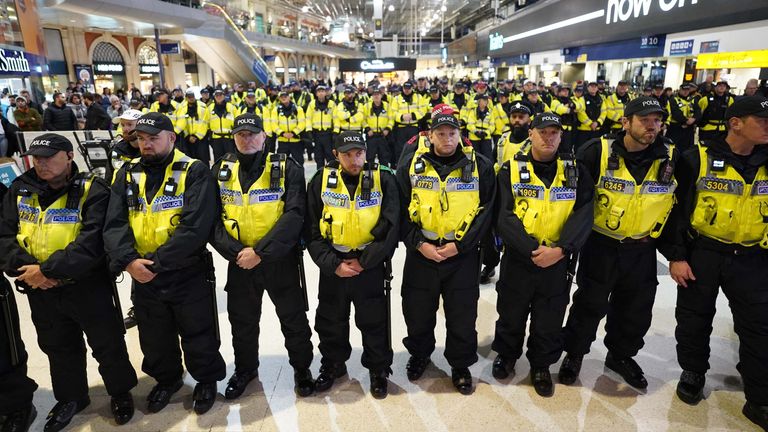 BTP had earlier issued Section 14a orders prohibiting protests on Saturday at a lot of London's fundamental railway stations from 10am to 11pm.
However, there was additionally a protest, involving about 200 individuals, at London Bridge station, the place a police cordon was put in place too.
There had been extra demonstrations at Manchester Victoria Station and at Leeds Station.
Source: information.sky.com"