The mom of a 28-year-old man who died in police custody says her son was tortured by the seven deputy sheriffs who've been charged with second-degree homicide.
Irvo Otieno's household stated they'd seen a 12-minute video of him being handcuffed, shackled and pinned to the bottom with "the weight of seven individuals on his body" whereas being transferred from a jail to a state psychological hospital in Virginia.
Three hospital workers have been charged in his demise alongside seven Henrico County sheriff's deputies, who Mr Otieno's mom, Caroline Ouko, stated handled her son "worse than a dog".
Speaking at a information convention after viewing the footage on Thursday, she stated: "It was traumatic, it was disturbing. My son was tortured.
"He was murdered. They smothered the breath out of my child. They murdered my child."
Mr Otieno died on 6 March after being transferred to Central State Hospital in Georgia from a local jail, where he had spent several days in custody following what his family's attorneys described as a "psychological well being disaster".
Henrico County Police said its officers initially encountered Mr Otieno while responding to reports of a burglary on 3 March, and that based on his behaviour, they took him to a local hospital for evaluation.
Police said he became "bodily assaultive towards officers" who then arrested him and took him to a local jail, where family attorneys claim the 28-year-old was denied access to needed medications and subjected to brutality.
They added Mr Otieno was "virtually lifeless" when the officers carried him to a vehicle to be transported to the state hospital, and that additional footage from the hospital showed a lack of urgency to help him after the deputies determined "that he was lifeless and never respiratory".
Read more:
Black people seven times more likely to die after being restrained by police, analysis finds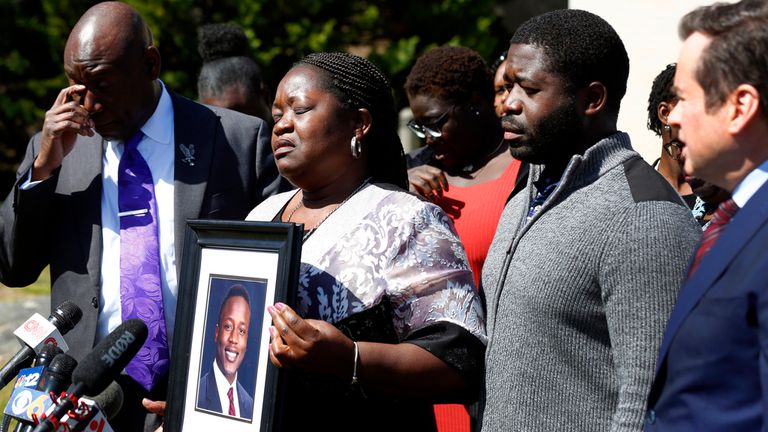 'Twelve agonising minutes'
Civil rights lawyer Ben Crump, who represented the household of George Floyd, is now working with Mr Otieno's household.
He stated: "It is truly shocking that nearly three years after the brutal killing of George Floyd by police, another family is grieving a loved one who allegedly died in nearly the exact same manner – being pinned down by police for 12 agonising minutes."
Henrico County sheriff Alisa Gregory has stated the deputies have been positioned on administrative depart, with hearings set for subsequent week, whereas the three hospital employees are being held with out bond. Prosecutors have stated extra fees and arrests are pending.
Source: information.sky.com"