Where there is a royal occasion, they're going to be royal superfans.
And that is undoubtedly no totally different.
We're six days away from King Charles' Coronation and but three metres of blue tarpaulin is making a make-shift tent for John, Marie and Patrick on The Mall.
They inform me it is known as 'Bucks House Hotel' as they peel again the cover to disclose its contents.
This clearly is not their first rodeo. There are camp chairs, blankets, pillows, a copious quantity of bathroom roll, Viennese Whirls and a lot memorabilia.
Most of it they inform me is from eBay and Amazon.
John Loughrey says a set-up like this can be a nice artwork.
In 26 years he has by no means did not attend any royal event – weddings, funerals, births, baptisms, and jubilees.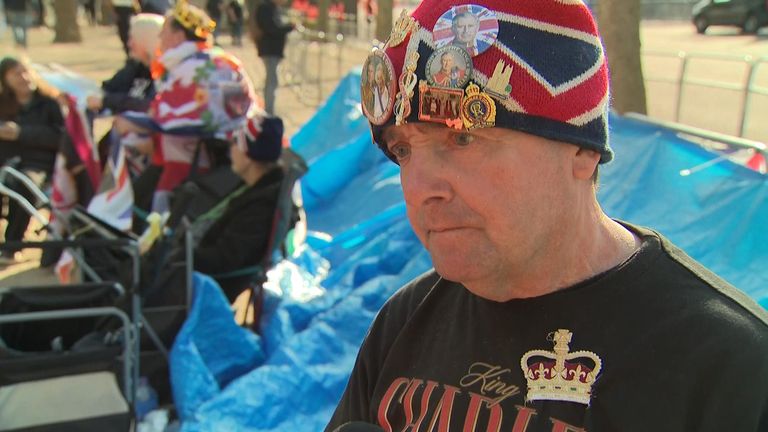 But this will likely be his first Coronation.
He arrived on Thursday, 10 days earlier than the occasion. But it was needed to make sure him a major spot on The Mall: "I'm waiting to see with my own eyes, a Coronation where they'll both be wearing crowns, that for me will be my most important moment of the Coronation."
Read extra:
Ant and Dec, Lionel Richie and Dynamo amongst celebrities invited to King's coronation
Coronation flypast route: Where you possibly can watch
My King, My Country? A particular coronation documentary
Marie Scott, a pal and long-time superfan from Newcastle agrees: "It's only something you can dream of as a royal fan.
"You've seen the Queen's Coronation in black and white on the tv however to be right here and witness it with your individual eyes, the environment, the camaraderie with individuals, it is simply going to be magical."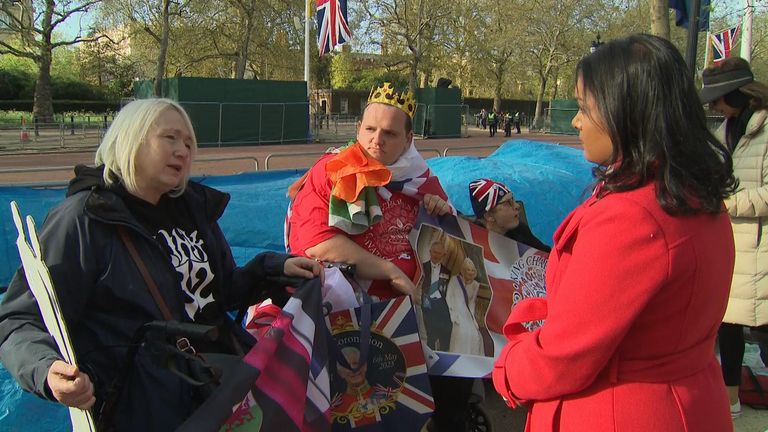 I see this camaraderie for myself as in between interviews crowds of individuals collect around the devoted group and quiz them about their feat.
"Are you really going to camp here till Saturday?" asks one incredulous onlooker. They all confidently and jubilantly reply: "Yes."
Patrick O'Neil who has travelled from Belfast is wearing a purple t-shirt emblazoned with the Coronation emblem and a plastic crown with purple and blue jewels adorns his head. There are purple, white and blue trinkets rigorously positioned round him and his tenting tools.
He slowly unfurls a banner with King Charles and the Queen Consort on the entrance that he received particularly made.
He explains to me that that is as a lot about friendship as it's adoration for the brand new monarch.
"We're like a family," Mr O'Neil says, "I just love meeting up with them and sharing our love of the Royal family. It's like a community, we all love the same thing and live and breathe it we're all so enthusiastic about it."
Closer to the Palace is Faye – she's popped a teddy bear carrying a crown on the railings above her flags.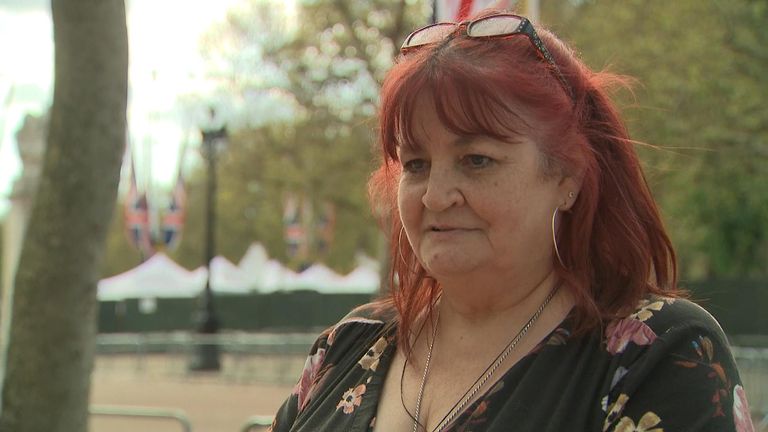 I've met Faye a few instances through the years at royal occasions, so she did not thoughts my cheeky query: "You know it doesn't start till Saturday, right?"
She laughs and says: "I know, but I come early because I get to meet so many people and encourage them to come and join me. The atmosphere is going to be electric, and I just can't wait to see my King."
All of them are adamant it is going to be definitely worth the wait.
Click to subscribe to the Sky News Daily wherever you get your podcasts
Source: information.sky.com"