Scientists hoping to bury nuclear waste deep underground have vowed that plans is not going to go forward with out native assist.
Highly radioactive materials equal in measurement to six,500 double-decker buses is at the moment saved above floor at 20 websites across the UK. Some silos are starting to deteriorate with age.
Nuclear Waste Services (NWS), a authorities company, says burying it within the bedrock presents a long run answer, protected from terrorism, struggle and pure disasters.
It is consulting with the coastal communities of Allerdale, Mid-Copeland and South Copeland in Cumbria, and Theddlethorpe in Lincolnshire, about constructing a geological disposal facility (GDF) underneath the seabed.
Prof Neil Hunter, chief scientist for NWS, instructed Sky News: "If we offer a compelling case, if we offer the proof to exhibit security, and the group needs to proceed, then a call could be taken to take action.
"But a community holds the right of withdrawal."
The authorities is dedicated to a brand new technology of nuclear energy stations, with the Chancellor Jeremy Hunt this week saying within the price range plans for small scale reactors.
But with public consultations over the siting of a GDF prone to proceed for a number of years, waste is continuous to pile up in floor storage silos.
There isn't any plan B if a prepared group can't be discovered.
Read extra:
Rolls-Royce will get funding for moon base nuclear reactor
Give peanut butter to infants to chop allergy charges by 77%
TikTok: Scottish Parliament 'strongly advises' MSPs to take away app
Prof Hunter stated: "If we were to be unsuccessful (in winning support) it would be for the government to reflect on the way forward. But internationally it is the solution.
"We have faith that this can be a protected method ahead for radiological waste administration."
What happens if plans get the go-ahead?
If the plan gets the go-ahead radioactive waste would be taken into a vast warren of tunnels by train.
Heavy duty canisters would be sealed into the bedrock, plugged with clay to keep out water, and the whole complex sealed over when full.
Scientists say the power can be steady over the lots of of hundreds of years that the radioactive materials would take to turn out to be protected.
'I wish to be certain the waste is within the most secure place it may be'
At a public engagement occasion in Seascale, a village simply two miles from the Sellafield nuclear website in Cumbria, locals had been overwhelmingly supportive.
David Moore, a farmer, stated: "Sellafield has brought great economic benefit.
"But the group recognises that there's waste there now and it needs to be managed in a protected method.
"We can't keep passing it down the generations. I've got seven grandchildren and I want to make sure the waste is in the safest place it can be."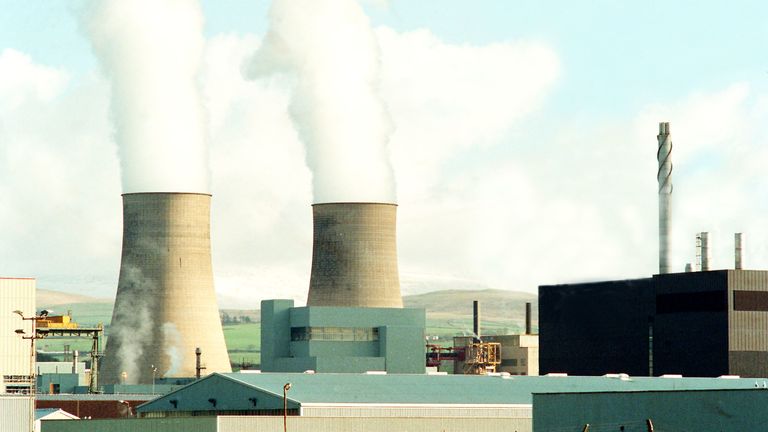 But there may be additionally some opposition.
Keith Hudson, a retired science instructor, backs geological disposal because the most secure answer.
But he fears underground water and the advanced geology in Cumbria make the situation too dangerous.
"They know the geology is better in the east of the country, where they could build a GDF big enough and do so quicker, better and cheaper," he stated.
But there is no such thing as a nuclear business close to the proposed GDF website in Lincolnshire, in contrast to in Cumbria, and making the case to the local people might be more durable.
"That's the problem with the whole process. It's not being driven by the science or the economics, but by politics," Mr Hudson stated.
Less than one in 1,000,000 likelihood of radioactivity returning to floor
NWS insists that any water within the bedrock off the Cumbrian coast is static or gradual transferring, and never a threat.
It says the design precept for the GDF is that there will likely be lower than one in 1,000,000 likelihood of radioactivity returning to the floor to hurt individuals.
Click to subscribe to the Sky News Daily wherever you get your podcasts
Independent scientists agree it's the greatest answer to the nuclear business's waste legacy.
Prof Claire Corkhill, who research how nuclear materials degrades on the University of Sheffield, stated: "We are not just pouring glowing green goo into the ground.
"If you consider the Russian doll idea, you've got the waste inside a container, which is surrounded by a buffer materials that acts like sponge to mop up any water. All of that's encased in stable rock.
"The only way we can stably control our radioactive waste in a safe and predictable way is deep underground."
The world's first nuclear waste tomb

Finland has nearly completed constructing a geological tomb for its nuclear waste. France, Sweden, Switzerland and Canada even have plans underway.
The UK hopes to have a GDF working between 2050 and 2060.
Source: information.sky.com"