We often hear stories about how some legendary investors changed their fortunes by making thousands of crores from the stock market. Due to the charm of these stories, many people look up to these giants of the stock market and wonder what is it that makes them successful and what is the secret formula behind their success?
In this article we will talk about Rakesh Jhunjhunwala and his portfolio, which is a very well known name of Dalal Street. Many people also call him the 'Big Bull' of the stock market. In this article, through Rakesh Jhunjhunwala's Portfolio Returns, we will try to know the investment principles through which a man can build his portfolio like Rakesh Jhunjhunwala's.
There are frequent media reports about the stocks included in Rakesh Jhunjhunwala's portfolio. Here we have listed his most valuable investments in a table-
Looking at the list of these Jhunjhunwala investments in the table, there are 4-5 important principles related to investing. To build a great portfolio, stock market scholars also often recommend adopting these things-
1. Limited Stocks in Portfolio: Above is a list of around 16 selected stocks and most of Jhunjhunwala's investments (about 60 per cent) have been made in these stocks.
2. Diversification: Jhunjhuwala's portfolio comprises stocks from sectors including IT, FMCG, Banking & Financial, Commodities, Pharma and Auto. Thus, the portfolio is well diversified. Diversification means investing in companies from different sectors.
3. Giving weightage to the strategy: Jhunjhunwala has not invested equally in all the stocks, but has made a bigger bet on the stock he has more confidence in.
4.Minimum Loss, Maximum Profit: There are some stocks in this portfolio in which his investments are in loss. However, it is compensated by other high-yielding stocks.
HDFC Securities is in this multibagger energy stock in 3 months and expects a rally, will you invest?
Return Calculations and Comparisons
In the table above, excluding Star Health, the average return of Jhunjhunwala's portfolio between March 29, 2019 and November 24, 2021 is 96%. While Nifty has given a return of 50 per cent during this period. This fact shows that if the principles of portfolio building are followed, you can generate higher returns than the stock market.
In a previous article dated May 7, we discussed how a lay investor can improve his portfolio returns by keeping an eye on interest rates. Let's compare the returns of a professional investor (as seen in the table above) and that of an ordinary investor.
According to the article, a common investor would have earned higher returns by investing in debt instruments between November 2013 and May 2020 and would have earned higher returns in the stock market after May 2020. So, during this comparison period, a typical investor should have focused on the debt market from March 29 to May 2020 and then on the equity market from June 2020.
Before looking at the return on asset allocation in this investment cycle, let's take a look at the major indices by Jhunjhunwala's investment dates-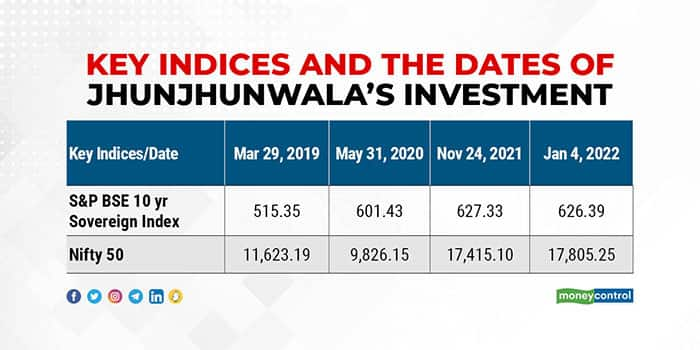 Between 29 March 2019 and 31 May 2020, the debt index gave a return of about 17 percent. If we consider 30% tax (short-term tax gain) in this, the net return works out to about 12 percent. Similarly, starting from June 2020 till November 24, 2021, Nifty gave about 77 percent returns. Combined, this translates to around 98 per cent return ((1+12%)*77%).
There is a slight change in this return profile when recalculated on January 4, 2022. As of today, the return of the professional investor would be 104 per cent, while that of the ordinary investor would be 102 per cent.
In the article, only the index has been used to describe the returns for the general investor. However, according to www.moneycontrol.com, 17 out of 26 large cap direct investment schemes (with AUM more than Rs 100 crore) gave more than 77 per cent returns. Similarly, the return profiles of 14 out of 16 schemes under Gilt Fund (Direct Investing) category were also higher than the debt index between March 29, 2019 and May 31, 2020.
Thus, an ordinary person can not only outperform the market but also earn returns at par with that of a professional investor. Provided that he follows the rules of investment and stays patiently on investment strategies and decisions that have been proven successful in the past.
The above calculation does not include profits from Star Health's investments. Also, the author of the article is not aware of the return on investments of the remaining 40 per cent of Jhunjhunwala's portfolio nor the asset allocation related to debt/equity.
This comparison or conclusion is in no way meant to undermine the achievement of a professional investor. It aims to encourage the average investor to apply investment principles to improve their portfolio/return on investment even through traditional investment vehicles such as index funds.
Disclaimer: This article has been written by 'Shankar K' for Moneycontrol. He has over two decades of experience in equity research. The views expressed in the article are the personal views of the author and not that of Moneycontrol.
.